Industrial Heat Exchange Repair and Replacement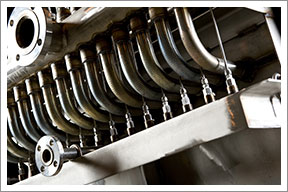 Cannon has many services available for industrial Heat Exchange Repair and Replacement.
A repair scope of work may include pressure testing and visual evaluation only, when a customer does not know if a unit is serviceable, or has been in storage for a long period of time. Also available are borascope evaluation, thickness testing, liquid penetrant, UT or RT testing.
Tube plugging or complete re-tubing is available, and repairs to headers, bonnets, and channels. Tube sheet re-surfacing is also available.
We can rerate an existing exchanger to higher pressure and temperature parameters, if the materials and condition allow.
Reverse engineering can duplicate heat exchangers from field dimensions of an existing unit. We can create drawings and verify thermal and mechanical calculations.
We are able to suggest material changes for thermal, mechanical, or corrosion properties.
For More information on industrial heat exchanger repair and replacement parts call 724.335.8541 or click here to contact us.