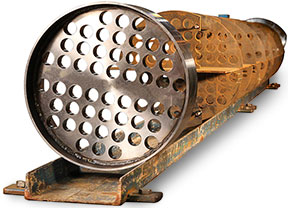 Shell and Tube Heat Exchangers are most versatile in terms of types of designs for service. Designs available are fixed tube, U-tube, and floating tube sheet. U-Tube and floating tube sheet designs are available with removable bundles.
S&T Heat Exchangers are the most widely known and understood since it is the most common exchanger available offering the widest range of allowable design pressures and temperatures.
The more rugged design Exchangers can withstand more abuse, both physical and process.
S&T Heat Exchangers are generally less thermally efficient than other types of heat transfer equipment. They are not well suited for temperature cross conditions where multiple units in a series must be used.
Shell and tube heat exchangers contain shell side stagnant or "dead zones" which can lead to corrosion problems and are subject to flow induced vibration, which in turn can lead to equipment failure.
Shell and Tube Heat Exchanges are subject to flow mal-distribution, especially with two phase inlet streams.
Codes governing design are ASME Section VIII, Div. 1, Tubular Exchanger Manufacturers Association (TEMA) Type "C", "B", & "R" design criteria, and API 660
All TEMA designations governing the shell, front and rear heads. The shell can be manufactured from pipe sizes 3" through 48" diameter. We normally limit weight to 40,000 Lbs.
Materials of construction range from carbon steel, brass alloys, and special alloys such as Hastelloy, Incoloy, AL6XN, etc. where corrosion and heat resistance is of concern
The tubes used are normally less than or equal to 2" O.D.
The shell is manufactured from pipe from 3" to 24" O.D., and from rolled plate for over 24" Diameter, Front and rear bonnet and channels are available with or without access covers.
Many types of fluid connections are available, such as RFSO Flange, RFWN Flange, lap joint stub end, ring type flange, or threaded couplings.
Cleaning and maintenance requirements on exchangers vary depending on TEMA design. Removable, straight tube, bundles are certainly easier to clean. The inside of tubes should be routed out on a regular basis especially if the fluid through them is prone to fouling. The tube exterior should be power washed or chemically cleaned to prevent a build-up of scale and corrosion.
For More information on our shell and tube exchangers call 724.335.8541 or click here to contact us.