On Demand Boiler Economizer Waste Heat Recovery Systems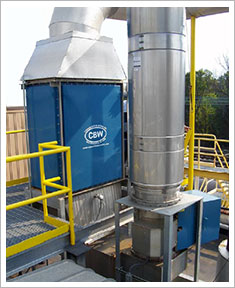 Many times an economizer or waste heat recovery unit just won't fit into a customer's existing equipment, due to space or operating limitations. This is where an On-Demand Boiler Economizer will work best.
The On-Demand boiler economizer removes waste heat from the flue gas, similar to the rest of our heat recovery line, but has some unique differences Our on-demand economizer operates only when your system needs hot water and is capable of offering a return on investment in less than a year, depending upon your current system. The systems runs the fan and pump only when heat is available and hot water is needed.
This waste heat recovery system is Invisible to boiler exhaust, eliminating backpressure or condensation concerns and can easily be inspected and repaired if necessary.
Once the waste heat recovery system is optimized for your operation is automatically provides maximum heat recovery and may boost boiler efficiency to over 90%
Sized for water stream (not flue gas) flow
Fan and pump run only when heat is available AND hot water is needed
Automated so can be optimized
Invisible to boiler exhaust, no backpressure or condensation concerns
Waste Heat Recovery –Economizer Prospect Qualification Criteria:
Systems burning: Natural gas
15,000 to 150,000 pounds per hour of steam (400 – 4,500 HP)
Operating water/steam pressure greater than 15 psi, 900psig max
Can flow boiler or non-boiler water streams
Flue gas pressures in a range of 0.25 inches WC to 6 inches WC
Inlet water temperature of 200F minimum
Flue gas temperatures to 700F
Can flow Boiler or non-boiler water streams
Customer's burner system is not subject to flue gas back pressures
Inlet water temperature: 32-150 deg F
Glycol-water mix or process water screen can be selected
For More information on Boiler Economizers and Waste Heat Recovery Systems call 724.335.8541 or click here to contact us.
On Demand Economizer Contact Form