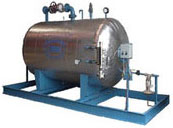 Customers may not know the solution to severe boiler cycling, when their steam system requires very large quantities of steam in a short period of time. Problems occur when large boiler load swings are causing operating problems (i.e. the boiler shuts off because it doesn't think it can meet the steam demand)
A steam accumulator is a pressure vessel (or tank) with internals and controls, that can reduce the fuel consumption, maintenance costs and increase the service life of your boiler by stabilizing the steam draw conditions (but it cannot make up for shortcomings in total boiler capacity). The accumulator acts as a flywheel or capacitor, storing energy for short periods until the process requires it. This is one of Cannon's many products that help companies reduce overall energy consumption.
Large load swings frequently cause boilers to shut down because the system thinks it won't be able to meet short term steam demands. When this happens, personnel must get involved to rectify the disruption in operations which leads to higher maintenance costs. By incorporating a Steam Accumulator, you can ensure smooth boiler operations with lower maintenance costs.

The Cannon Boiler Works Steam Accumulator helps you optimize boiler operation and reduce maintenance costs. Large load swings cause boilers several undesirable situations: 1) during the high cycle periods, the boiler shuts down because the system thinks it won't be able to meet instantaneous steam demand and/or 2) the boiler sits idle still using fuel during the low cycle periods, 3) the boiler system life is reduced due to severe heating and cooling of the boiler trying to meet the short term demands. By reducing these cycles, you minimize the wear and tear on your boiler system. Eliminating these operational disruptions also means less downtime, less operator involvement and ultimately lowers maintenance costs.
Accumulator operation requires a steam pressure drop across the accumulator. For example, if the process requires 100 psi steam, the accumulator must be charged to 125 psi or greater. (NOTE: The larger the difference between operating pressure and accumulator pressure, the smaller and less expensive the vessel gets.) The availability of deaerated water is normally required for steam accumulator operation.
In all cases designing an accumulator is a compromise. We will work with you to minimize compromises related to performance, and make your installation as easy as possible. Making the accumulator smaller than optimum design will reduce its steam capacity, which will shorten the active period of the accumulator during boiler cycling.
CBW provides piping and installation assistance which we can email to customers. Please note that these are only suggestions since every installation is slightly different in terms of existing equipment and available space. In addition, CBW has knowledgeable representatives located nationwide who are experienced and able to makeinstallation issues disappear.
CBW's standard material of construction is carbon steel. Stainless steel is also available for small vessels, but this is typically deemed too expensive for large vessels. Cannon's units are typically designed for Section 8 Division 1.
CBW's does not normally ship the accumulator with piping in insulation in place because it may not hold up during shipment. As such, the unit should be insulated by the installer.
Customers sometimes think an additional boiler solves the problem, and this depends on the size and type of boiler chosen. An additional boiler will help by adding steam space to the system, but it may not equal the steam space of an accumulator alone. Customers should also consider the fact that adding another boiler requires additional operating costs. An accumulator will not require any additional operating costs.
The purchase of installation of an accumulator are a significant costs, so have to be carefully designed to make sure it is an economically sound decision. Customers should calculate their current cost of downtime and factor that into the cost of the accumulator ownership. The costs associated with downtime will reduce the perceived cost of the accumulator vessel. And the life expectancy of a properly designed accumulator far exceeds the life of a boiler.
After the initial system shutdown for installation of the accumulator, the new system will not add any other unscheduled outages, and will not affect my upstream and/or downstream equipment.
By providing CBW with accurate operational parameters, we can design an appropriately sized accumulator for the customer's specific application/operation. Also, in order to fit a customer's available boiler room space, CBW can design multiple small vessels which will operate as one larger vessel.
Steam Accumulator Target Markets:
Food / Beverage
Pharmaceutical
Steel / Chemical / Petrochemical
Plastics / Rubber / Foam Manufacturing
For more information on Steam Accumulator Systems, call 724.335.8541 or click here to contact us.